Your ads will be inserted here by
Easy Plugin for AdSense.
Please go to the plugin admin page to
Paste your ad code OR
Suppress this ad slot.
I had several different things I wanted to cover tonight. There is a wealth of useful idiocy going on out there, and I was set to go with something else when Dr. Dave from Feed Your ADHD emailed me this.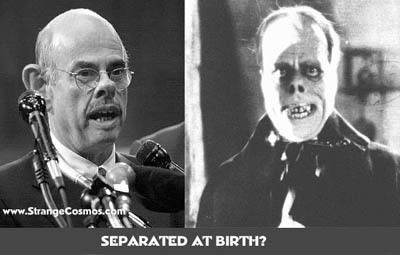 As my few regular readers know, Henry Waxpaper is one of my favorite targets of snark. He is a perennial favorite for Useful Idiot of the Month, and actually earned that level of disdain in March. He originally came to our attention after he thought that regulating Internet content (including this fine blog) was a fine idea. Well, not to be outdone, he is moving forward with the messiah's plan for CAP AND SLAVE, which is the taxation of all energy consumption.
What is Cap and Slave? It is this-every company gets a cap on how much plant food (CO2) they can produce. If they go over the limit, they have to pay more to the government. If they produce less than their limit, they can sell their excess carbon allowance to another company. It will be structured so the allowances that companies have will decrease steadily over a span of years. The libs say that this will "encourage" (read: FORCE) companies to lower their plant food output. In reality, the plan will simple increase the cost of doing business, and therefore, create higher costs for the consumer, and force layoffs.
An intruder approaches…
Generic College Lefty: "You're just a fascist that wants the earth to die."
Me: "Mmkay, you brain dead moron, explain why the earth is cooling, the artic sea ice expanded 30% last year, and there hasn't been a major hurricane to hit the US since Katrina-all in spite of your dire predictions. Might you be able to do that for me sparky?"
Generic College Lefty: "Der-der-der-duh-der…"
Me: "That's what I thought. Kool Aid coming up yet?"
Generic College Lefty: "YAAAAAACK!!! You're still a fascist!"
Me: (CLICK)
Generic College Lefty: WAAAAAAAAAAAAH! BRUTALITY!!! (Runs away while urinating on self)
Alrighty then, back to business…
What Cap and Slave will do for you is increase the cost of every source of energy. Your electric bill will be higher, as will the price of gasoline, natural gas, and so on. Some estimates run as high as an additional $2000 a year for the average family. The estimated job losses run into the millions. Why? The answer is simple. The end user pays all taxes. When businesses are taxed, they have a choice. They can either raise their prices, or lay off workers. When they hit with a heavy tax, or cost, both usually happen. Now before some lefty goes "what about their profits?" Let's say this. When profits go down, there is less to invest in the new technologies that the Messiah SPENDULUS MAXIMIUS claims to want. Also, the stock price of the company may suffer, and where is your retirement plan? Hasn't it suffered enough already? If the company has to cut back on expansion, modernization, or investment, what happens to their suppliers, contractors, skilled workers, and their families?
Your ads will be inserted here by
Easy Plugin for AdSense.
Please go to the plugin admin page to
Paste your ad code OR
Suppress this ad slot.
The messiah knows all of these things, and more, but what of Henry Waxpaper? Let's look at some quotes of idiocy, and allow the CALL IT SOMETHING ELSE Translation Matrix have a crack at him.
House Energy and Commerce Committee Chairman Henry Waxman said he won't compromise on his proposed 20 percent reduction in greenhouse gases over the next decade in the face of criticism from lawmakers who say the economy could suffer.

"I want to keep those caps in place," Waxman said in an interview on Bloomberg Television's "Political Capital with Al Hunt" airing this weekend. "It's what the scientists are telling us we must do" to avoid a global catastrophe, he said.
CALL IT SOMETHING ELSE TRANSLATION: The catastrophe would be losing our ability to control and manage the lives of the sheeple. I'll hide behind all of the flawed science and ignore all evidence to the contrary.

He took issue with President Barack Obama's plan to use 80 percent of the estimated $646 billion in revenue raised from carbon permits under a so-called cap-and-trade system to help fund middle-class tax cuts.

"I don't think that's the best use of it," Waxman said. "By and large" it should be spent on green technologies, he said, and part of it could be used to "help consumers with higher energy costs" and hard-hit industries, "especially coal."

Under the Obama plan only $120 billion would go to green technologies.
CALL IT SOMETHING ELSE TRANSLATION: The messiah is mistaken to give any money back to the people anyway. It's the government's money anyway. If we're going to force people to sacrifice the quality of living, giving them their money back will prevent that. Do I really have any intent on helping the coal industry? Hell no! I remember the messiah stating in public that he'll tax any company that makes a new coal fired power plant "into oblivion."

Do you mean this all about control, you ask? ABOSOFREAKINLUTELY!!! Look at it this way. The government creates a situation that causes energy prices to skyrocket. This will contribute to inflation, and cause great suffering. The messiah SPENDULUS MAXIMUS and his minion in the Legion of Doom will then blame the companies for the situation. Why? Because they always CALL IT SOMETHING ELSE!
Did you notice that this plan, just like the tax cut (that really isn't a tax cut), creates a problem, then poses the government as a solution? The government causes your bills to go through the ceiling. Then, the government gives some of the money (that they got by causing the crisis) back to you. Aren't they sweet!
Let's look at the real motivation for this. That motivation is "sustainable development," or referred to here as SUSTAINABLE STUPIDITY. This is currently being implemented here, in bits and pieces. The basic idea is that for there to be equality in the world, and to save the planet, people from the industrialized work have to sacrifice their standard of living. Don't believe me? Take a look at this quote…
Canadian oil billionaire Maurice Strong, Secretary General at the Rio de Janeiro United Nations 1992 Conference on Environment and Development, expressed the goal of Sustainable Development by declaring a partial list of what is not sustainable:

"…current life-styles and consumption patterns of the affluent middle-class [e.g. Americans]-involving high meat intake [e.g. cattle production], use of fossil fuels [e.g. air and auto travel], industrial and consumer products, appliances [e.g. refrigeration] home and work air-conditioning and suburban housing are not sustainable." (emphasis added)
Not my words, theirs!
So Henry, just how many lost jobs do you plan on causing? How many foreclosures and bankruptcies do you plan on causing? How quickly will you blame the companies for doing what you forced them to do?