Your ads will be inserted here by
Easy Plugin for AdSense.
Please go to the plugin admin page to
Paste your ad code OR
Suppress this ad slot.
It's predictable, but still funny.  When the Conservatives have some sort of event, the Legion of Doom either ignores it entirely, or shows up to ridicule it.  The Tea Parties being most recent example.  The cause is just as easily understandable.  The Legion in the back pocket of the messiah SPENDULUS MAXIMUS and his minions, and any "competing ideology" must be silenced or ridiculed.  Those darn socialists and their control of information and all!
The latest example occurred back on June 9th, when the  New Yorkers for Constitutional Freedoms sponsored multiple rallies to draw attention to traditional family values and to protest pending gay marriage legislation in NY.  Newsbusters covered it here, but I thought the story deserved the conservative Hideout treatment.
First up, the Village Voice, who actually did a pretty good job, and presented both sides of the issue.
When State Senator Rev. Ruben Diaz ascended the stage at an anti-gay marriage rally Sunday in front of Governor David A. Paterson's midtown office, he tried to put the fear of the God-fearing flock that stretched for several city blocks into him and his fellow politicians.

They pray and they vote.

The Bronx Democrat's threats resounded on Third Avenue between 40th and 35th streets, where an estimated 20,000 of the Tri-state area's devout decried the move to legalize marriage for all of New York's citizens at a rally sponsored by Radio Vision Cristiana International and the New York Hispanic Clergy Organization.

The state senator hoped that the crowd's numbers provided testimony to his strength to several colleagues sitting on the fence, now that their body will likely vote on the bill, which Governor Paterson proposed in April. The Assembly last week approved the legislation – after four hours of emotional debate – which led to the 89-52 vote.
20,000 people?  That many people had a peaceful protest and the media ignored it?  I would guarantee that if it was a pro-gay marriage protest, the media would be all over it!
Diaz (above) shamed the Hispanic assembly members who voted in favor of the bill. He bellowed their names and the crowd perfunctorily responded with boos.

"They smacked us and don't respect us," Diaz yelled of those who supported or plan to support the bill.

"Tengo cuidado," he later warned.
WHOA THAR!  Did that guy speak in SPANISH???  I thought Conservatives were RACISTS!!!  Don't Conservatives HATE Hispanic people??
Rabbi Yehuda Levin, Union of Orthodox Rabbis and the Rabbinical Alliance of America, joined the Hispanic clergy members in their threats to primary politicians who vote to alter the definition of marriage.

"I want to say to Assembly Speaker Sheldon Silver: You're an embarrassment as a Jew," he yelled, following up with a vision of Mayor Michael R. Bloomberg presiding over a gay marriage at Silver's synagogue.
WHAAAAAT???  Jewish people??  I thought the Conservatives HATE Jewish people?  OH WAIT, it's the LIBS that are antisemitic!!  I always get that confused!
The soldier stood at the edge of the gate and extended his hand to those en route to the anti-gay marriage rally. "Some of us are Christians too and we're capable of love and we could love them back," he said.
RANDOM COLLEGE LEFTY: Did you hear that?  That's hate speech!  That's really conservative code for killing gay people!  They're going to kill them all, and make it look like it was an accident!  Those conservatives, they just want to kill everyone! They should be arrested!  OH WAIT, the Thought Crimes Bill may still pass!  BWUHAHAHAHAHAHAHAHA!
Your ads will be inserted here by

Easy Plugin for AdSense.

Please go to the plugin admin page to
Paste your ad code OR
Suppress this ad slot.

The anti-gay marriage rally lingered for hours and worshippers listened as speakers reiterated over and over that marriage should strictly apply to men and women. And while these are words heard in churches – organizers estimated over 3,000 congregations arrived – Leslie Diaz, the state senator's wife, warned parents to monitor what is being taught in the city's public schools.

"These kids are being taught that two mommies are okay; that two daddies are okay; that they could choose whatever sex they want to have a relationship with is okay," she said. "You must be vigilant and you must be aware. Do not trust the Board of Education."
Well said Mrs. Diaz!  You should NEVER trust the Government, or let them have access to your kids!
Well, the Village Voice deserves some credit here.  They actually covered it.  They also provided pictures, which are very instructional as to why the Legion of Doom didn't cover this.
You see, dear reader, people of multiple races and faiths, 20,000 of them, came together peacefully to protested something that concerned them.  That does NOT fit the template of hate that the left wants the sheeple to believe.  Solution?  Pretend it never happened.  How well did they do?  I went to thee homepage of the organizers, and Googled the name of the rally under news.  This is what Google gave me…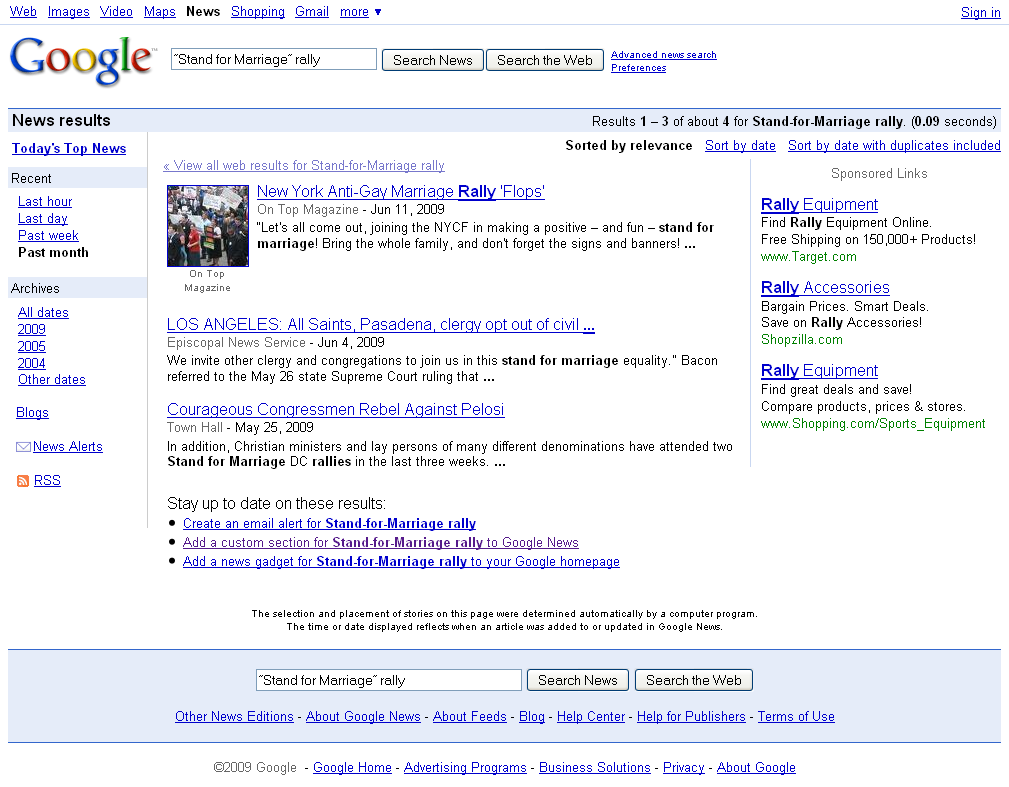 Well, well, well, the Legion was asleep for this one, or were they just ignoring it?  And what of the top story?  That the protest "flopped?"  Let's take a look, shall we??
The biggest names in the anti-gay marriage movement failed to muster a significant crowd – or media attention – at an anti-gay marriage rally in New York.
20,000 is insignificant?  Over 3,000 congregations sent people?  The media ignorance is understandable, but to lie so badly about it?
Despite the firepower of the movement's most powerful movers and shakers, the rally barely managed to attract a few hundred warm bodies to the steps of the Capitol and fewer news men and women. Most New York media remained silent on the event. Even NOM's press room was more preoccupied with defending former-Miss California Carrie Prejean's anti-gay marriage views after being fired than talking about their rally Wednesday.
OK, look at the pictures I posted from the Village Voice, who, let's just say, isn't known as being a conservative publication.  What did they do?  Tell everyone from the first picture, "OK everyone, change your race and move across the street for the next picture!"
Utah-based progressive blogger Chino Blanco summed up the rally: "It was HUGE!!! A huge flop."
Mmkay, if 20,000 is a huge flop, what is the yardstick for success?  OR, is it just about spreading disinfo?
How ya likin that change?