Your ads will be inserted here by
Easy Plugin for AdSense.
Please go to the plugin admin page to
Paste your ad code OR
Suppress this ad slot.
Now that the Democrats, and the POTUS in particular, have squandered their credibility on single payer, rationing, the written statements of Ezekiel Emanuel, and overall deceit, I thought it might be appropriate to present the Health Care Reform plan that the Republicans are too weak to present.  I will be presenting different parts over time, and will include the positives and any potential pitfalls of each piece.  While health care is a complex issue, I believe that one does not have to be a Washington insider, or a liberal academic, to reduce fraud and waste.
First up!  The part that I believe must be the centerpiece of any plan…
Tort Reform:
It is estimated that $210,000,000,000 a year is spend on what is referred to as "defensive medicine." This represents excessive testing and treatments that are ordered by doctors.  The purpose of these tests and procedures are simple; to avoid being sued.  This cost exceeds the number spent on medical errors, IT errors, and poor management of chronic disease.  With doctors expending hundreds of billions of dollars on lawsuit prevention, everyone suffers, employers, patients, even the government, have to pay more so doctors can cover their risk.
Additionally, the AMA reported that doctors would limit their practice to avoid treating patients that may have a higher tendency to sue.
Results A total of 824 physicians (65%) completed the survey. Nearly all (93%) reported practicing defensive medicine. "Assurance behavior" such as ordering tests, performing diagnostic procedures, and referring patients for consultation, was very common (92%). Among practitioners of defensive medicine who detailed their most recent defensive act, 43% reported using imaging technology in clinically unnecessary circumstances. Avoidance of procedures and patients that were perceived to elevate the probability of litigation was also widespread. Forty-two percent of respondents reported that they had taken steps to restrict their practice in the previous 3 years, including eliminating procedures prone to complications, such as trauma surgery, and avoiding patients who had complex medical problems or were perceived as litigious. Defensive practice correlated strongly with respondents' lack of confidence in their liability insurance and perceived burden of insurance premiums.  (Emphasis added)
So, not only do doctors order excessive testing to avoid lawsuits, they also, limit their practice to avoid being sued.  Does this impact accessibility of care?  I believe the answer is most likely yes.
Additionally, the cost of malpractice insurance has had a negative impact on practice and care.  Please consult the following graphs from the CBO.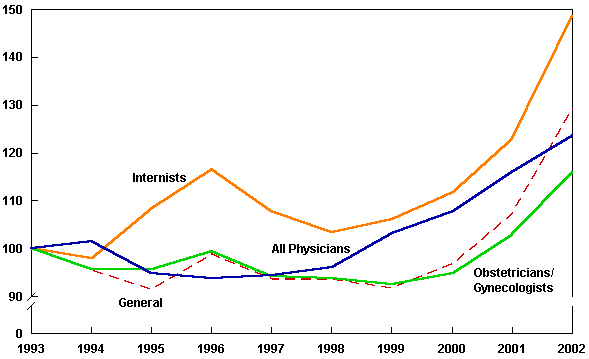 As we can see, the price has gone up considerably.  While this information, is dated, the rate of increase has continued to trend upwards.
Here is some more current, but less detailed information.
The next time you take your child to a doctor, scrutinize carefully the doctor's bill.  What it won't tell you is that an average of 10 cents out of every dollar you pay goes to the malpractice insurance doctors must have to protect themselves in case a patient sues them…

Your ads will be inserted here by

Easy Plugin for AdSense.

Please go to the plugin admin page to
Paste your ad code OR
Suppress this ad slot.

Medical specialties with the highest premiums include obstetrics and neurosurgery.  Malpractice insurance premiums for obstetricians range from $200,000 per year in high-cost states to $20,000 annually in low-cost states.  Resolving a suit takes at least three years, taking physicians' time away from the practice of medicine.

According to Towers Perrin, a global professional services firm, malpractice litigation costs $30 billion a year, and, since 1975, direct costs of litigation avoidance have grown at more than 10 percent annually.
So, the price of malpractice is $30,000,000,000 annually, and increasing at 10% a year.  That's approximately $300,000,000 a year in increases.  As you might guess, the malpractice insurance will continue to skyrocket at a similar rate, and with the left wanting to control all charges and fees, doctors will continue to be squeezed out of business, and less people will go into medicine.  After all, why would anyone go into a profession where they cannot be justly compensated for over 10 years of education and hundreds of thousands of dollars in educational expenses?
While no one is suggesting that people not be able to sue, that incompetent doctors should not be held liable, or that injured patients should not be justly compensated, there are abuses in the system.  For example, here is part of an abstract from the New England Journal of Medicine.
Results For 3 percent of the claims, there were no verifiable medical injuries, and 37 percent did not involve errors. Most of the claims that were not associated with errors (370 of 515 [72 percent]) or injuries (31 of 37 [84 percent]) did not result in compensation; most that involved injuries due to error did (653 of 889 [73 percent]). Payment of claims not involving errors occurred less frequently than did the converse form of inaccuracy — nonpayment of claims associated with errors. When claims not involving errors were compensated, payments were significantly lower on average than were payments for claims involving errors ($313,205 vs. $521,560, P=0.004). Overall, claims not involving errors accounted for 13 to 16 percent of the system's total monetary costs. For every dollar spent on compensation, 54 cents went to administrative expenses (including those involving lawyers, experts, and courts). Claims involving errors accounted for 78 percent of total administrative costs.  (Emphasis added)
As you can see, there are problems with this system.  The current system seems to be designed to benefit lawyers, which make, on average, hundreds of thousands of dollars per malpractice case.  Understandably, they are hesitant to stop this gravy train.  Below is a screen capture that shows just how hesitant they are, and also why the democrats will fight tort reform tooth and nail.
Formerly the Association of Trial Lawyers of America (ATLA), this group of plaintiffs' attorneys and others in the legal profession now goes by the name of the American Association for Justice (AAJ) and boasts 56,000 members worldwide. A lobbying heavyweight, the association has been battling any attempt at tort reform, including recent proposals to cap awards in medical malpractice lawsuits. AAJ also lobbies Congress on any legislation that may inhibit the ability of consumers to bring lawsuits, particularly against health care providers, asbestos companies or insurance companies processing claims related to terrorism. The association favors Democrats, who oppose most attempts to initiate tort reform.
The numbers on this page are based on contributions of $200 or more from PACs and individuals to federal candidates and from PAC, individual and soft money donors to political parties, as reported to the Federal Election Commission. While election cycles are shown in charts as 1996, 1998, 2000 etc. they actually represent two-year periods. For example, the 2002 election cycle runs from January 1, 2001 to December 31, 2002. NOTE: Soft money contributions were not publicly disclosed until the 1991-92 election cycle and were banned after the 2002 cycle.

Data for the current election cycle was released by the Federal Election Commission on May 12, 2009.

Feel free to distribute or cite this material, but please credit the Center for Responsive Politics. For permission to reprint for commercial uses, such as textbooks, contact the Center
Clearly, the trial lawyers want to buy a political party so they can keep their profits flowing.  While I am a Conservative, and believe in the free market, I have to determine that this is a result of the government distorting the marketplace at the behest of a group- a group that gains massive profits from said distortion.  Ironically, this is exactly what the left accuses the Republicans of doing.
So, in one shot, billions can be saved.  All we have to do is find a way to overcome the fact that the trial lawyers are one of the largest contributors to the DNC!  Other considerations include the fact that the MSM will distort the facts to favor the left, the left will pay off the rent-a-mob, busing them in with identical printed signs, union goons will attack anyone they can, and the media will ignore the violence and obvious payoff for the protesters.