Your ads will be inserted here by
Easy Plugin for AdSense.
Please go to the plugin admin page to
Paste your ad code OR
Suppress this ad slot.
I initially that I would write some grand tribute to the protests, but after consideration, I think it's better if the protesters, as well as their critics, spoke for themselves.
Did CNN learn from their mistakes?
Not so much, still spinning!
Time lapse of crowd size.
Fox Coverage
Racist???
I've been looking for some independent confirmation of the 9-12 protest attendance. I think I may have found it from the Daily Mail in the UK.
Up to two million people marched to the U.S. Capitol today, carrying signs with slogans such as "Obamacare makes me sick" as they protested the president's health care plan and what they say is out-of-control spending. The line of protesters spread across Pennsylvania Avenue for blocks, all the way to the capitol, according to the Washington Homeland Security and Emergency Management Agency. People were chanting "enough, enough" and "We the People." Others yelled "You lie, you lie!" and "Pelosi has to go," referring to California congresswoman Nancy Pelosi.
I have to stress that this is one report. I'm sure that some people will overshoot the numbers, and the MSM will likely under-emphasize it. As more reports come in, I'll try to clarify. Here are some images from the article. I saved them to Photobucket so I could re-size them.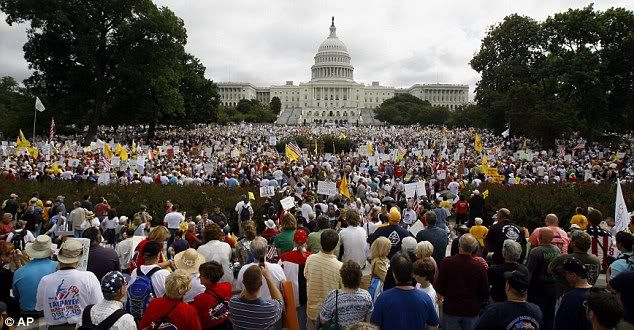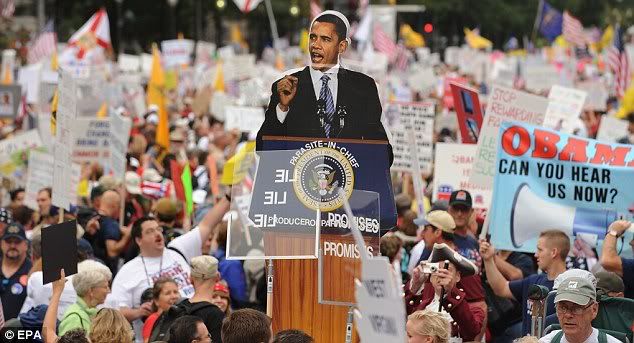 Update: Atlas Shrugs has reported the following:
So, while there will be debate over the numbers, one foreign source  suggests that attendance was in the millions.  Here's some information linked by Michelle Malkin…
Also, refer to the time-lapse video above.  No matter the total, it exceeded expectations, and the MSM will under report it.
As usual, they are misrepresenting it a well, but that's not really a surprise.  They're just putting more nails in their (ratings) coffins.