Your ads will be inserted here by
Easy Plugin for AdSense.
Please go to the plugin admin page to
Paste your ad code OR
Suppress this ad slot.
Campus Reform is at it again.  This time, they have set their sites on ACORN.  Here is their plan.
The Association of Community Organizations for Reform Now (ACORN) was designed to "help the poor and disenfranchised through education and employment."  However, it has become notorious for alleged involvement in a far different set of activities:  "charges of voter registration fraud, embezzlement, tax arrears, corruption and, most recently, accusations of aiding and abetting illegal immigration, prostitution, tax evasion and child abuse."

These discoveries instantly became big news because of ACORN's strong ties to President Barack Obama.  As reported by the Media Research Center, "Obama served as ACORN's attorney and a top trainer at ACORN's Chicago organizing conferences. In 1996, Obama filled out a questionnaire and put ACORN at the top of the list of his key supporters for his state Senate campaign."  In 2008, the Obama campaign paid more than $800,000 to ACORN.

Now the federal government has begun to move to withdraw funding from the group:  "ACORN has been stripped of $1.6 million in federal funding and been dropped by the U.S. Census Bureau as a partner in conducting the nation's headcount."  Both houses of Congress quickly voted to defund ACORN, but this is only the beginning.  A single bill to remove funding has not yet passed both the House and the Senate, and the president has yet to sign any permanent funding withdrawal into law.

But ACORN also receives significant funding from a number of large banks, many of whom received bailout money.  This means that even if the federal government defunds ACORN, tax dollars would still be funneled through these banks to an organization under numerous criminal investigations:

1.      Bank of America:

a.       Gave ACORN $3.6 million from 2006-2008[i]

b.      Took $15 billion in TARP funds[i]

UPDATE: As of Monday, September 29, Bank of America pledged to "suspend current committments" to ACORN.

2.      JP Morgan Chase:

a.       Gave ACORN $5 million since 1998 ($2.4 million in 2007)[i]

b.      Took $25 billion in TARP funds[i]

3.      Citigroup:

a.       Gave ACORN $1.5 million in 2006[i]

b.      Took $25 billion[i]

4.      Wachovia, which was bought out by Wells Fargo in 2008:

a.       Gave ACORN $5,000 since 2000[i]

b.      Wells Fargo took $25 billion in TARP funds[i]

5.      US Bancorp:

a.       Gave ACORN $755,000 since 2002[i]

Your ads will be inserted here by

Easy Plugin for AdSense.

Please go to the plugin admin page to
Paste your ad code OR
Suppress this ad slot.

b.      Took $6.599 billion in TARP funds[i]

6.      PNC:

a.       Gave ACORN $95,000 since 2002[i]

b.      Took $7.6 billion in TARP funds[i]

7.      Provident Bank:

a.       Gave ACORN $5,000 since 2002[i]

b.      Took $151 million in TARP funds

Select one or more banks to protest.  Contact bank's president, director, or CEO and demand that they sign a pledge to stop any further contributions to ACORN (contact information is hyperlinked on each bank's name).  A pledge template is available for download at the bottom of this page.

Organize a demonstration to demand this company stop funding a corrupt organization!  Visit any local branches in your area and stage a protest.  Submit photos and videos (ideally including the sign or building of the bank at which you protest) of your event to Campus Reform.  Local and even national media may cover your protest:  This will put pressure on these companies to change their donation habits.

Click here to read the report of an ACORN protest from the University of Florida Florida Frontier group, and watch a video of their protest.
I believe that this is a great idea.  These kids might need some help, so if you're up for it, help them out!
ACORN is one of those groups that must be countered.  They have proved themselves to be thoroughly corrupted.  Considering the videos shown on Big Government, the recent information discarded after the announcement of an investigation, the multiple cases of voter registration fraud (Operation Blackjack), and the fact that they were recently found to be operating illegally in several states, we can safely assume that they exhibit some of the traits of a criminal enterprise.  Therefore, they need to be resisted and exposed.
My personal thinking is that at some point in the future, ACORN could go bust.  Either varying levels of government will shut them down, or they will simply fold, as no one will consider them to be anything more than criminal organization.  In a sense, that will be a victory.  However, the remnants of ACORN will likely rename themselves, and continue running their schemes under a multitude of different flags.  Also, it might be safe to assume that they will be locally run, without an obvious national structure.  This, in the end, may make them even harder to track and monitor, but it will also make it more difficult for them to hide their finances and coordinate their efforts.  At any rate, defeating ACORN would be a great victory in a much longer ideological war against the left.
Here are some CH 2.0 ideas for signs (Click on the images for source)…
ACORN FUNDED PROSTITUTION ZONE!!
Voter Fraud!!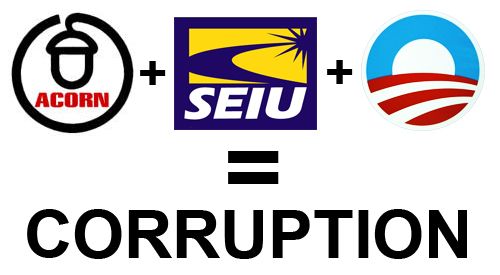 Truth
Stay safe, take pictures, and have fun!