Your ads will be inserted here by
Easy Plugin for AdSense.
Please go to the plugin admin page to
Paste your ad code OR
Suppress this ad slot.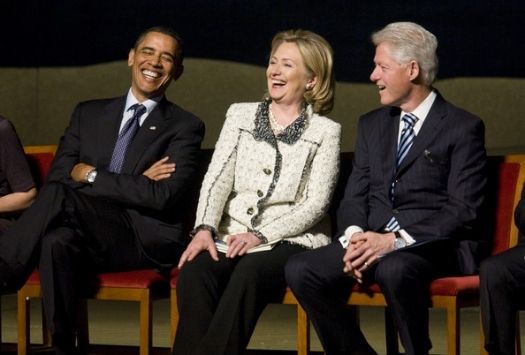 Hat/Tip to Jo Becker and Mike McIntire at The New York Times.
It's bad enough when your elected officials go back on their campaign promises. Hell you might even cut them some slack when they explain how "it's an election year, and gee whiz, they sure are vulnerable, but don't worry, after the election, I'll keep those promises."
Yeahhh, right.
But this is something completely different and tenfold worse.
This is a sitting President, a sitting Secretary of State and a former President conspiring to not only line their pockets, but also to sell America down the river.
The headline on the website Pravda trumpeted President Vladimir V. Putin's latest coup, its nationalistic fervor recalling an era when its precursor served as the official mouthpiece of the Kremlin: "Russian Nuclear Energy Conquers the World."
The article, in January 2013, detailed how the Russian atomic energy agency, Rosatom, had taken over a Canadian company with uranium-mining stakes stretching from Central Asia to the American West. The deal made Rosatom one of the world's largest uranium producers and brought Mr. Putin closer to his goal of controlling much of the global uranium supply chain.
But the untold story behind that story is one that involves not just the Russian president, but also a former American president and a woman who would like to be the next one.
At the heart of the tale are several men, leaders of the Canadian mining industry, who have been major donors to the charitable endeavors of former President Bill Clinton and his family. Members of that group built, financed and eventually sold off to the Russians a company that would become known as Uranium One.
Beyond mines in Kazakhstan that are among the most lucrative in the world, the sale gave the Russians control of one-fifth of all uranium production capacity in the United States. Since uranium is considered a strategic asset, with implications for national security, the deal had to be approved by a committee composed of representatives from a number of United States government agencies. Among the agencies that eventually signed off was the State Department, then headed by Mr. Clinton's wife, Hillary Rodham Clinton.
As the Russians gradually assumed control of Uranium One in three separate transactions from 2009 to 2013, Canadian records show, a flow of cash made its way to the Clinton Foundation. Uranium One's chairman used his family foundation to make four donations totaling $2.35 million. Those contributions were not publicly disclosed by the Clintons, despite an agreement Mrs. Clinton had struck with the Obama White House to publicly identify all donors. Other people with ties to the company made donations as well.
And shortly after the Russians announced their intention to acquire a majority stake in Uranium One, Mr. Clinton received $500,000 for a Moscow speech from a Russian investment bank with links to the Kremlin that was promoting Uranium One stock.
At the time, both Rosatom and the United States government made promises intended to ease concerns about ceding control of the company's assets to the Russians. Those promises have been repeatedly broken, records show.
The New York Times's examination of the Uranium One deal is based on dozens of interviews, as well as a review of public records and securities filings in Canada, Russia and the United States. Some of the connections between Uranium One and the Clinton Foundation were unearthed by Peter Schweizer, a former fellow at the right-leaning Hoover Institution and author ofthe forthcoming book "Clinton Cash." Mr. Schweizer provided a preview of material in the book to The Times, which scrutinized his information and built upon it with its own reporting.
In a statement, Brian Fallon, a spokesman for Mrs. Clinton's presidential campaign, said no one "has ever produced a shred of evidence supporting the theory that Hillary Clinton ever took action as secretary of state to support the interests of donors to the Clinton Foundation." He emphasized that multiple United States agencies, as well as the Canadian government, had signed off on the deal and that, in general, such matters were handled at a level below the secretary. "To suggest the State Department, under then-Secretary Clinton, exerted undue influence in the U.S. government's review of the sale of Uranium One is utterly baseless," he added.
American political campaigns are barred from accepting foreign donations. But foreigners may give to foundations in the United States. In the days since Mrs. Clinton announced her candidacyfor president, the Clinton Foundation has announced changes meant to quell longstanding concerns about potential conflicts of interest in such donations; it has limited donations from foreign governments, with many, like Russia's, barred from giving to all but its health care initiatives. That policy stops short of Mrs. Clinton's agreement with the Obama administration, which prohibited all foreign government donations while she served as the nation's top diplomat.
Either way, the Uranium One deal highlights the limits of such prohibitions. The foundation will continue to accept contributions from foreign sources whose interests, like Uranium One's, may overlap with those of foreign governments, some of which may be at odds with the United States.
When the Uranium One deal was approved, the geopolitical backdrop was far different from today's. The Obama administration was seeking to "reset" strained relations with Russia. The deal was strategically important to Mr. Putin, who shortly after the Americans gave their blessing sat down for a staged interview with Rosatom's chief executive, Sergei Kiriyenko. "Few could have imagined in the past that we would own 20 percent of U.S. reserves," Mr. Kiriyenko told Mr. Putin.
Now, after Russia's annexation of Crimea and aggression in Ukraine, the Moscow-Washington relationship is devolving toward Cold War levels, a point several experts made in evaluating a deal so beneficial to Mr. Putin, a man known to use energy resources to project power around the world.
Your ads will be inserted here by
Easy Plugin for AdSense.
Please go to the plugin admin page to
Paste your ad code OR
Suppress this ad slot.
"Should we be concerned? Absolutely," said Michael McFaul, who served under Mrs. Clinton as the American ambassador to Russia but said he had been unaware of the Uranium One deal until asked about it. "Do we want Putin to have a monopoly on this? Of course we don't. We don't want to be dependent on Putin for anything in this climate."
The path to a Russian acquisition of American uranium deposits began in 2005 in Kazakhstan, where the Canadian mining financier Frank Giustra orchestrated his first big uranium deal, with Mr. Clinton at his side.
Within days of the visit, Mr. Giustra's fledgling company, UrAsia Energy Ltd., signed a preliminary deal giving it stakes in three uranium mines controlled by the state-run uranium agency Kazatomprom.
If the Kazakh deal was a major victory, UrAsia did not wait long before resuming the hunt. In 2007, it merged with Uranium One, a South African company with assets in Africa and Australia, in what was described as a $3.5 billion transaction. The new company, which kept the Uranium One name, was controlled by UrAsia investors including Ian Telfer, a Canadian who became chairman. Through a spokeswoman, Mr. Giustra, whose personal stake in the deal was estimated at about $45 million, said he sold his stake in 2007.
Soon, Uranium One began to snap up companies with assets in the United States. In April 2007, it announced the purchase of a uranium mill in Utah and more than 38,000 acres of uranium exploration properties in four Western states, followed quickly by the acquisition of the Energy Metals Corporation and its uranium holdings in Wyoming, Texas and Utah. That deal made clear that Uranium One was intent on becoming "a powerhouse in the United States uranium sector with the potential to become the domestic supplier of choice for U.S. utilities," the company declared.
Still, the company's story was hardly front-page news in the United States — until early 2008, in the midst of Mrs. Clinton's failed presidential campaign, when The Times published an article revealing the 2005 trip's link to Mr. Giustra's Kazakhstan mining deal. It also reported that several months later, Mr. Giustra had donated $31.3 million to Mr. Clinton's foundation.
(In a statement issued after this article appeared online, Mr. Giustra said he was "extremely proud" of his charitable work with Mr. Clinton, and he urged the media to focus on poverty, health care and "the real challenges of the world.")
Though the 2008 article quoted the former head of Kazatomprom, Moukhtar Dzhakishev, as saying that the deal required government approval and was discussed at a dinner with the president, Mr. Giustra insisted that it was a private transaction, with no need for Mr. Clinton's influence with Kazakh officials. He described his relationship with Mr. Clinton as motivated solely by a shared interest in philanthropy.
"None of this would have been possible if Frank Giustra didn't have a remarkable combination of caring and modesty, of vision and energy and iron determination," Mr. Clinton told those gathered, adding: "I love this guy, and you should, too."
But what had been a string of successes was about to hit a speed bump.
Arrest and Progress
By June 2009, a little over a year after the star-studded evening in Toronto, Uranium One's stock was in free-fall, down 40 percent. Mr. Dzhakishev, the head of Kazatomprom, had just been arrested on charges that he illegally sold uranium deposits to foreign companies, including at least some of those won by Mr. Giustra's UrAsia and now owned by Uranium One.
Publicly, the company tried to reassure shareholders. Its chief executive, Jean Nortier, issued a confident statement calling the situation a "complete misunderstanding." He also contradicted Mr. Giustra's contention that the uranium deal had not required government blessing. "When you do a transaction in Kazakhstan, you need the government's approval," he said, adding that UrAsia had indeed received that approval.
But privately, Uranium One officials were worried they could lose their joint mining ventures. American diplomatic cables made public by WikiLeaks also reflect concerns that Mr. Dzhakishev's arrest was part of a Russian power play for control of Kazakh uranium assets.
At the time, Russia was already eying a stake in Uranium One, Rosatom company documents show. Rosatom officials say they were seeking to acquire mines around the world because Russia lacks sufficient domestic reserves to meet its own industry needs.
It was against this backdrop that the Vancouver-based Uranium One pressed the American Embassy in Kazakhstan, as well as Canadian diplomats, to take up its cause with Kazakh officials, according to the American cables.
Read the full story here.