Your ads will be inserted here by
Easy Plugin for AdSense.
Please go to the plugin admin page to
Paste your ad code OR
Suppress this ad slot.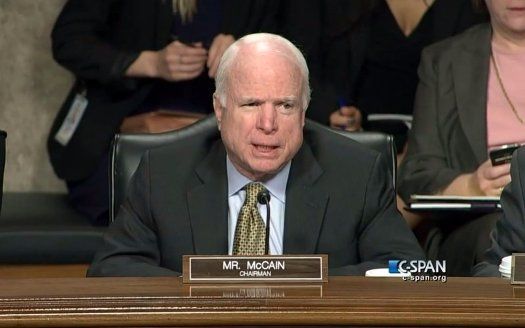 Hat/Tip to Newsmax.
A large part of the base of the Republican Party doesn't think too much of Arizona Senator John McCain, but every once in a while, he gets one right.
Today is one of those days.
Senate Armed Services Committee Chairman John McCain has kicked protesters out of a budget hearing, calling them "low-life scum."
The upheaval came Thursday on Capitol Hill after members of an anti-war group calling itself Code Pink approached a witness table where former secretaries of state Henry Kissinger, Madeleine Albright and George P. Shultz were testifying. The protesters carried signs calling the 91-year-old Kissinger a war criminal.
McCain blurted out, "Get out of here, you low-life scum."
After he ordered the protesters out, and called them "low-life scum," he was met with applause.
.
.
.