Your ads will be inserted here by
Easy Plugin for AdSense.
Please go to the plugin admin page to
Paste your ad code OR
Suppress this ad slot.
If we've learned anything about liberal logic over the last five years here at the CH 2.0, we've learned that the principle enemy of liberalism is reality.  Reality shows that global cooling global warming climate change The Big Lie is exactly that.  Real life experiences of the victims of ObamaCare show that the people were not able to keep their insurance or doctors.  The evidence is staggering that welfare programs promote more poverty.  I could go on forever, but you get the  point.  When confronted by their enemy, liberals resort to any of four main tactics…
1.  Lie and deny.  "It didn't happen, causes we said so!"
2.  Ignore it.
3.  Attack those that present it.  For example, threaten the lives of people that have lost their insurance.  Or, instead of actually debating the facts (and losing badly), the liberals will attempt to discredit the source or presenter of the information.
4.  Blame someone else.  When it cannot be ignored, "Bush did it!"
Here's an example when the ignore strategy was used.  Liberal Logic has it…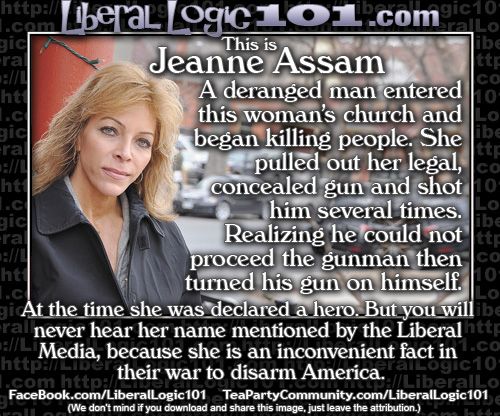 They might have used the "threaten" strategy, but that would have done little, with Jeanne Assam being armed and all.
The fact that guns save lives-far more than those that are taken with them, has to be ignored.