Your ads will be inserted here by
Easy Plugin for AdSense.
Please go to the plugin admin page to
Paste your ad code OR
Suppress this ad slot.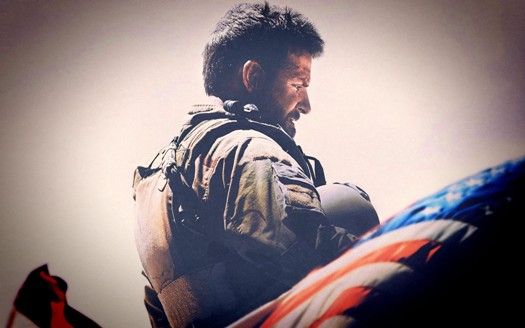 Hat/Tip to Wordsmith at Flopping Aces.
One of Flopping Aces' best, Wordsmith delves into the phenomenon that is American Sniper.
Here is his Op-Ed in its entirety:
Whatever the truth about Chris Kyle (and I suspect, like most, the real Chris Kyle was a complex person; and lived tall tales while fabricating others), he is an American hero.
My understanding of the film is that it's not meant to make a political statement. But I suppose everything under the sun is political when you bring your politics with you in going to see movies.
I've not seen the film yet, so can't comment on it; but I have been reading some of the reactions– and some of them are rather curious:

One of the first celebrities to show their support for the film was the uber-liberal Jane Fonda, who tweeted the following:

 

Just saw "American Sniper" Powerful. Another view of "Coming Home." Bradley Cooper sensational. Bravo Clint Eastwood. http://t.co/l94zY5Gh8Q

— Jane Seymour Fonda (@Janefonda) December 21, 2014

Fonda, of course, attracted the ire of many Americans when she took a trip to North Vietnam in 1972 and posed for several photos with NVA troops, earning her the nickname "Hanoi Jane." She later starred in the Oscar-winning Vietnam War drama Coming Home, about a ménage-a-trois involving Vietnam War veterans suffering from PTSD. This past weekend, she apologized for her "Hanoi Jane" days, calling her trip a "huge mistake."
Is Fonda being sincere? Or is she trying to heal her image?
While Fonda supported the film and its sympathy for PTSD-suffering military vets, other celebrities homed in on the film's perceived jingoistic, pro-war message. Seth Rogen, whose recent film The Interview attracted the ire of North Korean despot Kim Jong Un, tweeted:
American Sniper kind of reminds me of the movie that's showing in the third act of Inglorious Basterds.

— Seth Rogen (@Sethrogen) January 18, 2015
Even if this were true, and Eastwood attempted to lace a Rah-rah GO USA! message into the film, what is so wrong with being pro-American? 
Documentary filmmaker Michael Moore took Rogen's criticisms one step further. The director, who was famously booed when he denounced the Iraq War and then-President George W. Bush in his 2003 Oscar acceptance speech, claimed that snipers like Kyle were "cowards" and "aren't heroes":

Your ads will be inserted here by

Easy Plugin for AdSense.

Please go to the plugin admin page to
Paste your ad code OR
Suppress this ad slot.
My uncle killed by sniper in WW2. We were taught snipers were cowards. Will shoot u in the back. Snipers aren't heroes. And invaders r worse

— Michael Moore (@MMFlint) January 18, 2015
Are snipers cowards?
I think those who think so are the ones who have the line of reasoning that police are cowards and bullies because they swarm to take down a suspect in numbers rather than confront one-on-one; or that the U.S. is a bully because it will invade a weaker country suspected of having wmd but won't attack a country known to have wmd. As if any sane military would ever seek a "fair" fight and not suppress the enemy with superior and sustained, overwhelming firepower that minimizes risk and harm to our own people.
Here are some other comments by the nasties on the left who have a distorted, world-view:
Chris Smith: I agree with Seth Rogan and Michael Moore on both facts. Murdering for corporate greed isn't fighting for freedom, it murdering for corporate greed! Trying to promote and celebrate the murders as heroic is propaganda! Chris Kyle is a terrorist and nothing else!

Bram Heath: I saw the movie yesterday and was thinking the same thing Seth thought. When people started clapping I knew that was the 23% that watch Fox News. Felt like I was watching a Joseph goebbles film from 1942.

Steven M Schwartz: You can no longer be critical of the military and those who serve. Thanks to almost a decade and a half of the blindly patriotic bull shit the right and the government has shoved or attempted to shove down our throats. From the pro war NFL pregame flyovers to the plastering of American flags and yellow ribbons. Fox news and the right have co-oped the word patriot and American, and now the word "American" means war loving Christian white America. If you do not kowtow to their agenda then you are the enemy. This movie is nothing more than propaganda revisionist history about a self admitted racist who chose to kill people over being with his family.

Thomas Petsa: nothing heroic about a sniper….hiding behind a bush miles away shooting someone in the head aint heroic….a bloke charging towards an enemy under fire now that's heroic..blokes landing in dunkirk seeing their mates getting gunned down knowing they might be next..that's either heroic or dumb..snipers have got it cushy in comparison..

Chris Smith: Chris Kyle was a terrorist pawn for a corporate military. I spit on his service!

Chris Owens: From what I've read, it sounds like he was a serial killer moreso than a hero.

Shannon Love: Real 'American Sniper' was a hate-filled killer — why are simplistic patriots treating him as a hero?
Read the full story here.
.
.
.