Your ads will be inserted here by
Easy Plugin for AdSense.
Please go to the plugin admin page to
Paste your ad code OR
Suppress this ad slot.
I've been waiting to discuss the events that have occurred in Ferguson, MO.  Like any emotionally charged situation, there are claims and counter-claims.   I tend to wait a bit and summarize what is known.  So, here is what we know about the situation in Ferguson.
The "victim" in this situation is Michael Brown, aged 18.  Mr. Brown was seen on video robbing a local store.
Here is a video, from FOX News, shown at the linked DC article…
Here is more footage, from CNN…
And, we also now know that this video was available for some time, but had not been released at the request of the DOJ.  Breitbart has more…
The shooting took place on Saturday, August 9 and it took until the Friday the 15th for the surveillance video to be released. Since the shooting occurred, Ferguson has been wracked with  riots, destruction of property and looting every night.

The significance of the surveillance video has understandably led some to wonder, why on earth did the police not release it sooner?
"What upsets me is that it should have been all over the news," said Tatinisha Wheeler, a protester who lives in St. Louis. She said she was confused why the police wouldn't have immediately said Mr. Brown had been allegedly involved in a crime. "Now they're going to say it's a robbery?" she asked.
If the video had come out right away, the gentle giant narrative would never have been able to take hold in the way it did.

Now we know the reason for the delay.

The Holder Justice Department pressured the Ferguson Police Dept. not to release the tape showing the latest left-wing cause celeb to be a violent criminal.

Via NBC News:
The Department of Justice urged Ferguson police not to release surveillance video purporting to show Michael Brown robbing a store shortly before he was shot and killed by police, arguing the footage would further inflame tensions in the St. Louis suburb that saw rioting and civil unrest in the wake of the teenager's death.
Ferguson Police Chief Tom Jackson released the video Friday, telling reporters that he had no choice because the media requested the release under the Freedom of Information Act. The Department of Justice, which is conducting its own investigation into Brown's Aug. 9 death, has had a copy of the footage all along and never considered releasing it to the public, the source said.
Then, the 6*4″ 290 (plus) Brown leaves the store.  And is soon confronted by a police officer, who was called and alerted to Brown's description.  Donald Douglas at the American Power Blog has more…
And then Dana Loesch has the interview with the friend of Officer Wilson, who explains that Brown assaulted Wilson at the police car, walked 35-feet away, and then turned and launched into a crazed "bum-rush" toward the police car, via Gateway Pundit, "EXCLUSIVE: Friend of OFFICER DARREN WILSON Speaks Out on Shooting of Mike Brown (AUDIO)":
He pulled up ahead of them. And then he got a call-in that there was a strong-arm robbery. And, they gave a description. And, he's looking at them and they got something in their hands and it looks like it could be what, you know those cigars or whatever. So he goes in reverse back to them. Tries to get out of his car. They slam his door shut violently. I think he said Michael did. And, then he opened the car again. He tried to get out. He stands up.

And then Michael just bum-rushes him and shoves him back into his car. Punches him in the face and them Darren grabs for his gun. Michael grabbed for the gun. At one point he got the gun entirely turned against his hip. And he shoves it away. And the gun goes off.

Your ads will be inserted here by

Easy Plugin for AdSense.

Please go to the plugin admin page to
Paste your ad code OR
Suppress this ad slot.

Well, then Michael takes off and gets to be about 35 feet away. And, Darren's first protocol is to pursue. So, he stands up and yells, "Freeze!" Michael and his friend turn around. And Michael taunts him… And then all the sudden he just started bumrushing him. He just started coming at him full speed. And, so he just started shooting. And, he just kept coming. And, so he really thinks he was on something."
Go straight to the radio interview here, "Josie On The Dana Show 8-15-14."
Additionally, there is video of the aftermath of the story.  This comes from the Conservative Treehouse.  On the video is audio of witnesses discussing the situation.
And just for another perspective…
Now, it is important to know that these videos and information were NOT available at the time of the incident.  It's only since Friday that this new information has been trickling out.
Since the death of Michael Brown, there has been rioting and looting every night in Ferguson.  For "justice," of course…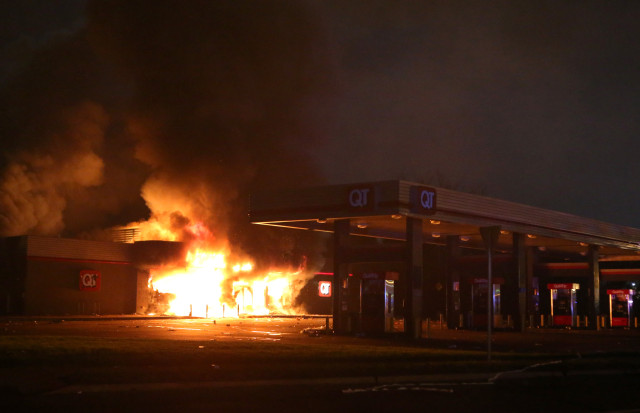 A simple search engine query will return hundreds of images of vandalism, looting, and destruction.  Because, apparently, "justice" means destruction.
But there is more.  This story also emphasizes that the police have become too militaristic.  When you see pics of cops, and then of armed soldiers, and you cannot tell the difference, there is something wrong.
Then, we still have to ask if the government was trying to get a riot going by withholding key information, like the video of Michael Brown stealing the cigars?  Did they want the mobs rioting a looting, and using the false narrative that Brown was shot in the back as a justification?
I have seen some bloggers state that the new information represents a "change in narrative."  I would stress that the narrative will not change.  I say this in reference to Trayvon Martin.  If you would recall, Trayvon Martin was in the process of bashing in George Zimmerman's skull when he was shot in self defense.  No matter what evidence came out, it was still clear that the only way for "progressive justice" to have taken place was for Trayvon Martin to have killed George Zimmerman.  Had that been the case, it would have been a local story, and the world would have been deprived of it's very first "White Hispanic."   This case is much the same.  Had Michael Brown been successful in further assaulting, or even killing, officer Wilson, there would be no public outcry.
It is possible that even more information might come out.  In that case, I will do my best to keep up with it.  Don will be back on duty for Tuesday, at which point, I will go back to more spiritual pursuits.
In the meantime, I will pray for peace, and actual justice in this situation.