Your ads will be inserted here by
Easy Plugin for AdSense.
Please go to the plugin admin page to
Paste your ad code OR
Suppress this ad slot.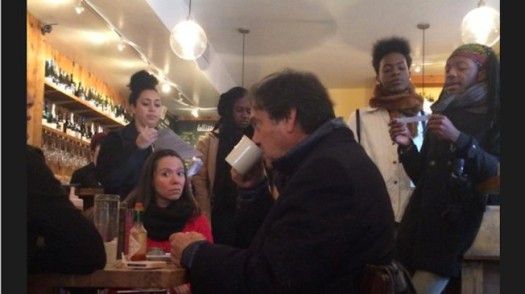 Hat/Tip to Derryck Green at the YoungCons.
So now, a person can't even eat their lunch in peace.
Most people look forward to enjoying Sunday brunch- one of the last relaxing events of the weekend.  Brunch equals good food, good mimosas, good company, and the opportunity to mentally and emotionally prepare for the upcoming work week.
But for folks in New York- particularly white folks, their brunch was anything but relaxing thanks to some outfit calling themselves "Black Brunch NYC." The purpose- to draw attention to the complicity of white privilege in the war or "genocide" on black lives. The means- going into different restaurants trying to intimidate whites, disrupting their meals by screaming, holding up signs drawing attention to what else- Ferguson, black lives matter… the same tired slogans seen and heard over the past several months.
.
Reading the names of New Yorkers killed by police @ the barking dog on 33rd n lex. #BlackLivesMatter #BlackBrunchNYC pic.twitter.com/Pz3WVDs6uF

— DAS RACIST (@dasracist) January 4, 2015
.

Now in Tacabaya across the street #ferguson2berkeley #blackbrunch @dailycal pic.twitter.com/Nhy6k2MiBI

— Graph/Haley Massara (@BylineGraph) January 3, 2015
.
ATTN WHITE Man, I have no guilt disturbing your brunch. Its YOU that has no right to be here. #blackbrunchnyc pic.twitter.com/mFRq5Q9hbe

— Camila ibanez (@QuePasaApaza) January 4, 2015
Your ads will be inserted here by
Easy Plugin for AdSense.
Please go to the plugin admin page to
Paste your ad code OR
Suppress this ad slot.
.

#blackbrunch here near Grand CentrAl pic.twitter.com/QMuJdhp9eT

— Messiah Rhodes (@rhodesmessiah) January 4, 2015
.
#blackbrunch you eat while we read the names of our dead family members…#Ferguson2Cal pic.twitter.com/mIpe3tlFz1

— karissa (@sunshinekarissa) January 3, 2015
.

Manager at #presto NYC trying to kick us out we will NOT be moved pic.twitter.com/mS2dM6hcw7

— Zippie (@jovitasmagnolia) January 4, 2015
.
I've asked this on several occasions, but I'll ask it again. How do these self-righteous, self-centered idiots think they're doing anything beneficial for their "cause" by annoying and inconveniencing audiences wherever they go? Stopping street and freeway traffic, destroying private property, or yelling their false grievances in white faces as they attempt to enjoy a meal angers people, ensuring a full reservoir of resentment.
When will people say enough already?!
Look at these fools. Only in a postmodern, non-judgmental culture are these dummies not thrown out or arrested simply because they're brown and black. And look at some of the faces of the patrons, my God. Actively averting their eyes, meekly sitting there and patiently enduring the condescending lecture and rubbish of the racial blame-game, passively encouraging these intruders- these so-called "activists"- to continue their bullying and intimidating of whites who won't fight back.
As I've recently told a couple of friends, the ONLY reason crap like this continues to happen is because bullies specifically pick targets that won't fight back and defend themselves. The very minute people of good will, regardless of color- but ESPECIALLY white people- stand up and start vociferously pushing back, this stuff ceases almost immediately.
But until then, we'll see more 'black brunches'. Thank God for bottomless mimosas.
Read the full story here.
.
.
.